Your Skiing Experience
Glade skiing, steep skiing, cliffs, plus easy runs for new users…with 17 runs (up to 25 turns long), 2 quad chairs and 1 t-bar lift, and competitively priced lift tickets…who could ask for anything more? The Venture Centre Tube Park (with night lights), Freestyle terrain Park, Cross Country and more await you. Located in Northeastern Ontario…Kamiskotia is developing as a premier winter destination. Located just 15 km west of Timmins , the "City with the Heart of Gold", serviced by Porter Airlines and Air Canada Jazz, we are just a 1.5 hr direct flight from Toronto Island via Porter. With some of the best skiing in Ontario…why not fly or drive to Timmins and drop in for the weekend. Lots of local in town accommodations are available. See map at bottom of this page.
Closed March 25th until Dec 21, 2013.
Thank you everyone for another fantastic, fun-filled winter at Kam "Where Northern Ontario comes to play"
SPECIAL NOTICE RE CLOSING

Dear fellow members, the first " real " winter in Timmins in years has resulted in a number of requests to the board to keep the hill open Easter weekend and beyond. Although the board appreciates the reasoning behind the requests, from a financial standpoint we must abide by our decision to close the hill March 25th, 2013. The last couple of years, the weather at the end of the season made the decision to close understandable and acceptable; however the continued late snowfall of 2013, has many questioning our decision. It is our hope that after your read our explanation that although you may not agree with our decision, that at least you understand our reasoning.
The first and foremost responsibility of the board to all the members at Kamiskotia Snow Resort is to maintain the financial viability of the hill. Therefore we have to make decisions that may not be in the best interests of individual members but are definitely in the best interests of the entire hill, and that includes having a fixed starting and ending date to the season. Despite our increase in numbers and the growing popularity of Kamiskotia, the business of running and maintaining a community ski hill without the benefit of federal, provincial or municipal funds is a volatile undertaking. It is by no accident that many ski resorts the size of Kamiskotia or bigger have closed in the last 5 years. Ski hills are seasonal recreational facilities that have huge operating costs and without the luxury of a credit line, there is a fine line between bankruptcy and viability. Kamiskotia Snow Resort has done well because the board and management have made it our number one priority to operate in a cost efficient manner. The money that is generated from the close of one season to the start of the next must be enough to see the hill through the summer and fall and keep it functioning until the season starts and new revenues are created. The costs associated with running and maintaining the ski hill are considerable and they do not disappear once the season ends. In fact much of the money generated from the spring sale is consumed before the a new season even starts with the costs associated with labor, repairs, and payment of suppliers. Furthermore each and every year extra costs arise that although budgeted, still take a chunk out of our revenue and this year is no different, with new costs associated with the mandated TSSA inspection of all our lines and lifts, the repair of unexpected damage to the snow making system and of course the repayment of a loan from previous years to the City of Timmins.
Each and every year we develop a budget, that includes all of the factors mentioned above, and despite our best intentions, all it takes to throw a wrench in our plans is poor weather, unexpected labor issues or unexpected and unanticipated equipment failure. All of this factors into our bottom line and so any idea that is going to cost us money will not be explored.
We have been able to determine our cost per day to break even, and we have used this as a basis for all our decisions. Using historical data, the number of skiers that have utilized the hill on Easter weekend or beyond has simply not been enough to make extended opening a financial possibility. There is simply not enough new day pass traffic or walk up customers  to meet our break even point. Therefore although we can understand the passion of some of our members to keep the hill open, from a financial stability point of view, it is not feasible.
This is not a decision that is set in stone for years to come, and we are open to options that may be possible in the future, should our winters continue in this manner. In November of 2013, there will be our annual AGM, with the election of new board members. For those who are interested in the continued growth of Kamiskotia, please consider this an opportunity to bring your ideas to the floor, and submitting your name to join the board.
The board and management of Kamiskotia thank you for your support and dedication this season, and we look forward to seeing you on the hill next year.


Operational Days & Hours
 Check daily conditions for info and changes before driving to the MOUNTAIN! Call 705-268-9057 if in doubt.

Cold Weather Notice

Always check the home page, daily conditions or calendar for operating days, hours and changes occur throughout the season.  KAM reserves the right to make operational changes due to inclement weather or operational issues with little or no notice. When -30c or colder we may remain closed for your safety and the safety of our staff.  Check before driving to Kam by calling 705.268.9057.  We apologize for any inconvenience this may cause you but it is for the overall safety of all.
Kamiskotia Trail Map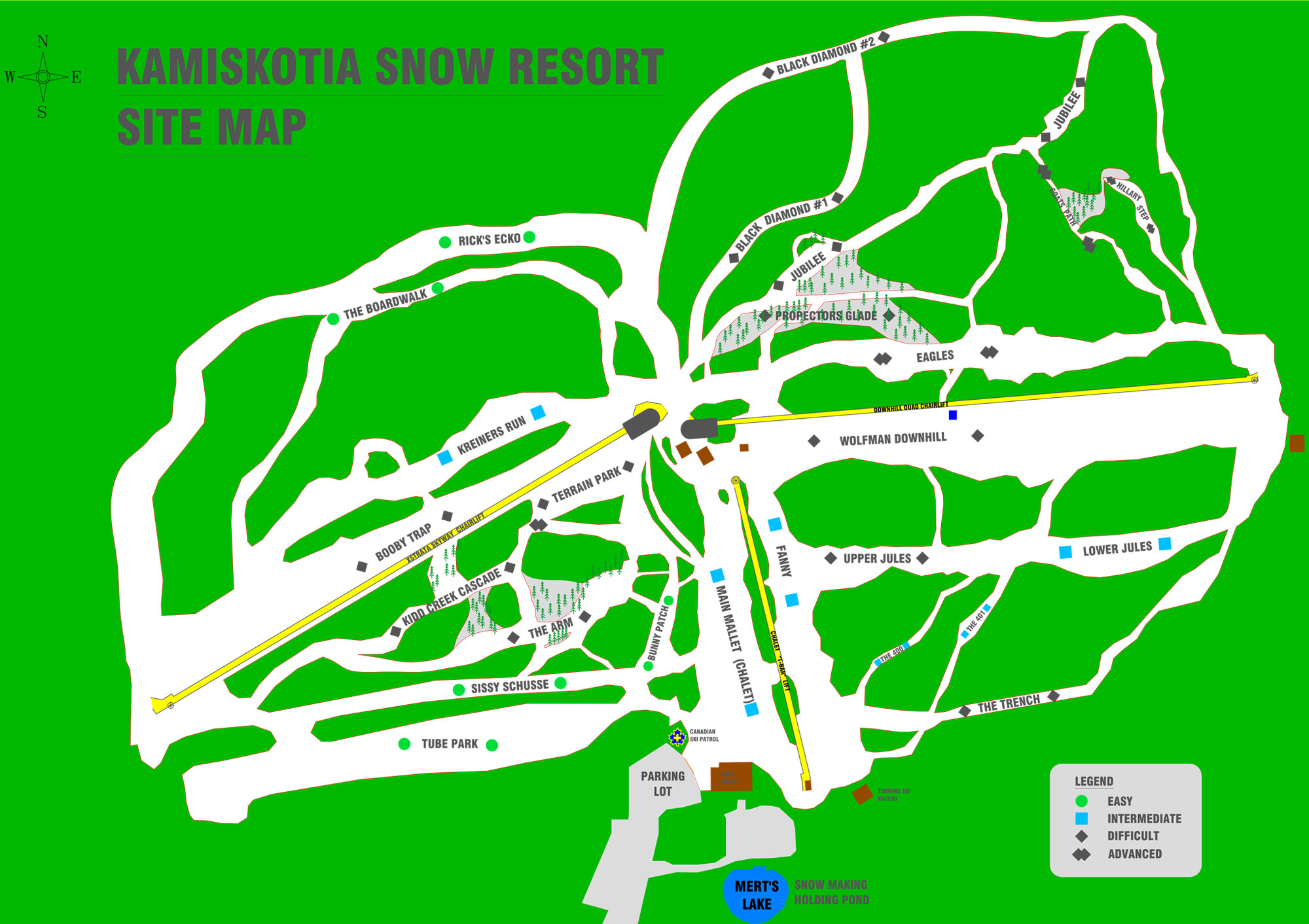 Click to enlarge