SAY CHEESE!
Pass Photos will be taken:
December 5 (Thursday) and December 6 (Friday) at Northern Sports 
from 4:00pm to 8:00pm.
December 12 (Thursday) and December 13 (Friday) at Source for Sports 
from 4:00pm to 8:00pm.
NOVEMBER SEASON PASS SALE
Extended???? click to find out
760 MEMBERS AND COUNTING!!!!
Plan to be skiing or boarding on Opening Day…Dec 20, 2013
Thank you for continuing to support Kamiskotia!
Job fair – Dec 4th
Holiday Inn Express
Canada Room East
from 5:00pm to 8:00 pm
Come one come all
See u all there
PAT COTE IS THE NEW GM OF KAMISKOTIA SNOW RESORT!!
PAT BRINGS A WEALTH OF EXPERIENCE HAVING BEEN BOTH A GM AND OPERATOR AT MT NORQUAY IN BANFF AND GLENN MOUNTAIN IN QUEBEC
REGULAR SEASON (NON SALE PRICES + TAX)
Youth/Senior                     $425
Adult                                      $529
Family of 2                         $799
Family of 3                          $899
Family of 4                           $1099
Add Family Member          $210
U or C student                      $265
Out of Towner                      $425
Corporate                             $1089
Your Skiing Experience
Glade skiing, steep skiing, cliffs, plus easy runs for new users…with 17 runs (up to 25 turns long),
2 quad chairs and 1 t-bar lift,and competitively priced lift tickets…who could ask for anything more?
The Venture Centre Tube Park, Freestyle terrain Park, Cross Country and more await you.
Located in Northeastern Ontario… Kamiskotia is developing as a premier winter destination.
Located just 15 km west of Timmins , the "City with the Heart of Gold", serviced by Porter Airlines and Air Canada Jazz,
we are just a 1 hr direct flight from Toronto Island via Porter.
With some of the best skiing in Ontario…why not fly or drive to Timmins and drop in for the weekend.
Lots of local in town accommodations are available.
See map at bottom of this page.
NOTICES:
Thank you and here's looking forward to another excellent winter of tearing up the slopes,
glades, chutes and monkey trails at Kam this coming winter.
Operational Days & Hours
 Check daily conditions for info and changes before driving to the MOUNTAIN! Call 705-268-9057 if in doubt.

Cold Weather Notice

Always check the home page, daily conditions or calendar for operating days, hours and changes occur throughout the season. 
KAM reserves the right to make operational changes due to inclement weather or operational issues with little or no notice.
When -30 c or colder we may remain closed for your safety and the safety of our staff.  
Check before driving to Kam by calling 705.268.9057. 
We apologize for any inconvenience this may cause you but it is for the overall safety of all.
Kamiskotia Trail Map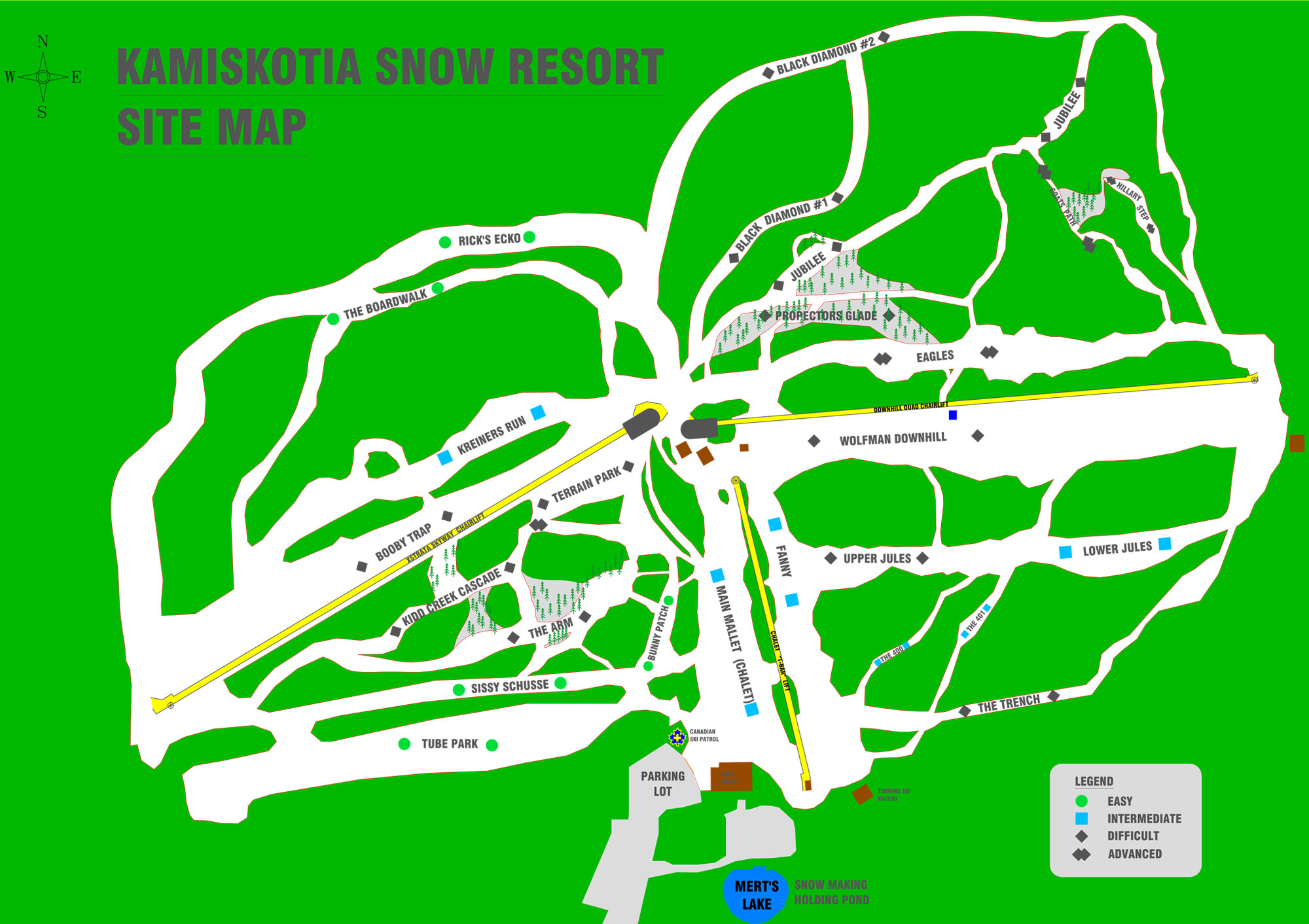 Click to enlarge